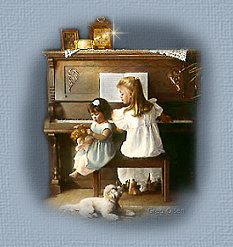 by Cathleen L. Edgar



Home Life
Victorian homes offered children a large network of various caregivers built in to the family structure. Each married couple had an average of six children, but the average household was considerably larger. Rarely would one find the nuclear family living alone. Only thirty-six per cent of families consisted simply of a set of parents and their children. Extended families were also rare. Only 10 per cent of families had three or more generations under one roof. The average household would more likely be a conglomeration of a nuclear family along with any number of random outsiders. The stragglers could include any combination of lodgers, distant relatives, apprentices and/or servants.
The composition of the home constantly changed: older children married or went off to work, while babies were born and died. Babies and young children were extremely susceptible to illness. In the worst and poorest districts, two out of ten babies died in the first year. One fourth of them would die by age five. Life expectancy varied greatly depending upon the quality of the area in which people lived. In industrial towns, like Liverpool, the average life expectancy was twenty-six years. In a better area, like Okehampton in Devon, it was fifty-seven years. The national average of England and Wales was forty years at mid century. Therefore as a child grew older, he was likely to lose one or more siblings as well as one or both parents.
Children usually enjoyed the benefit of their mothers' presence on a daily basis. The mother's place was considered to be in the home. Common thought dictated that a woman should be available at all times to care for her husband and children. She would supervise the staff, servants and/or nannies, if her family could afford them. The idea of a working mother was considered highly improper and thought to result in neglect of husband, children and home. Supposedly, illness or even death might arise in the children. An absent wife would also find an unhappy and strained relationship with her husband. Reporting on Birmingham, in Chadwick's 1842 Report on Sanitary Conditions, The Committee of Physicians and Surgeons declares that:
The habit of a manufacturing life being once established in a woman, she continues it and leaves her home and children to the care of a neighbor, or of a hired child, whose services cost her probably as much as she obtains by her labor. To this neglect on the part of their parents is traced the death of many children; they are left in the house with a fire before they are old enough to know the danger to which they are exposed, and are often dreadfully burnt... To the habit of married women working in manufactories may also often be traced those jealousies and heart-burnings, those quarrels and that discontent which embitter the home of the poor man. (Hopkins 103)
It was simply considered natural for a woman to stay home. In Preston, a mill town, (Dickens' model for Coketown in Hard Times), twenty-six per cent of married women and fifteen per cent of wives who also had children worked outside of the home. In the poorer districts, figures might reach as high as thirty per cent. More commonly women would take in work that they could do at home, such as sewing or washing. They might even work part time cleaning homes or doing other such domestic work. So, the majority of children had the support of their mother at home- unless, of course, she had died.
Women had a higher mortality rate than men. They frequently ate less than the men, making them more susceptible to illness. Many died in childbirth. Poor hygiene and their frequent exposure to illness through their duties of nursing the sick would make them more likely to contract infection.
"The feeding of babies was a worrisome business," (Pollack, ALR 53). Most middle-class mothers breast-fed their infants, probably into their second year of life. By the nineteenth century, many people believed that breast-feeding would prevent pregnancy. This is a commonly held misconception, even today, probably based on the fact that women usually do not regain their monthly menstruation until they have weaned their baby. The use of wet nurses was more common in the upper-classes, primarily because of the expense involved. According to Pollack, even upper-class women only resorted to the use of a wet nurse if for some reason, like illness or deficiency, they could not nurse their own babies.
Other than having some physical reason for not being able to feed their own children, mothers chose to utilize the service of a wet nurse for various reasons. The custom of the wet-nurse seems to have developed in the seventeenth century, but even at that time, educational moralists denounced the practice, stressing the need for mothers to nurse their own children. Originally, infants were "farmed out" to live with a local servant who perhaps had just weaned her own child, or had lost an infant of her own. By the nineteenth century, many of these women began coming to live in the homes with the parents, allowing the parents to remain close to their child (Aries 375). Wet-nurses may have become fashionable, not simply because they freed the mother from bothering herself with the chore of breast-feeding, but also because of the high mortality rate of infants, mothers (and fathers) may have been afraid of building an early attachment to a fragile child that was likely to die (Illick 310). Unfortunately, the "farming out" of babies may have contributed to this high mortality rate. Another reason might have been that at one time it was believed that nursing mothers should not engage in sexual intercourse, partly because it might curdle her milk. Further, they believed that if the woman did get pregnant again while still nursing, her milk supply would be diminished or dry up altogether. Pollack surmises that because sex was discouraged, husbands may have pressured their wives not to breast-feed, especially if they had not yet produced a male heir, (Pollack, ALR 53). The decision once made, parents chose the wet-nurse very carefully, and then if the nurse did not live in with them, the parents made an effort to visit the baby regularly.
"The wet-nurse has been a much maligned figure, having been regarded as a mercenary harridan, purveyor of infant neglect," (Pollack, ALR 53). Wet-nurses have been accused of a list of horrendous crimes, both against the infants they tended and to the infant's parents. The mortality rate of children under such care was remarkably high. If the nurse had more than one charge, she might not be able to supply enough food for all. Infants might suffer from malnutrition. She might not bother to tend to the needs of so many infants, or to the particularly fussy ones and in an attempt to keep the children manageable, administer an overdose of laudanum (a derivative of opium). They might take the baby to bed with them and while asleep roll over on top of the baby, suffocating it: "the fact that 'overlaid and starved at nurse' was the stated cause of 529 child deaths in the London Bills of Mortality, 1639-1659, gives credence to the point," (Illick 308). Since the nurses were paid for their services and feared loss of income in addition to any repercussions on the death of the infant, they were known to have substituted another baby, perhaps their own, for the dead child. When the nurse and child lived away from the parents, any neglect might go unchecked. Some felt that sending the child out to a wet-nurse was equally as negligible as infanticide or abandonment.
Pollack claims however that current views of the wet-nurse have been wrongly influenced by: "the conditions in nineteenth century baby farms and by the callous care given by some nurses to pauper infants," (Pollack, ALR 54). Pollack suggests that mothers would have used the condition of the nurse's own children as an example of the care her child would be given. Parents chose their nurse carefully, partly because it was believed that a child would pick up her characteristics, both good and evil, through the milk. For that reason, married women commanded higher pay for the position than unmarried women, presumably because they were of better moral quality (Robertson 410). Pollack further suggests that the continuing practice of wet-nurse use was more the result of inertia, like simply following a trend or fashion, than evidence of lack of caring of parents for their infants (Pollack, ALR 54).
In less affluent families that could not afford the luxury of a wet-nurse, if the mother could not nurse her own child the baby might be fed with a milk substitute, "by hand" as with Pip in Dickens's Great Expectations. The substitute, called pap, consisted of a paste of bread and water, thinned with milk and sweetened with a touch of sugar. Middle-class mothers could probably not afford baby powders or formula as alternatives, which finally became available mid-century. Bottles, or "feeding vessels" had been available since the mid eighteenth century, but they too were expensive for use in the average household. Parents simply fed their infants from a spoon. Many problems arose because women did not know much about or realize the importance of sterilization. (No wonder Pip's sister called it a chore. It must have been a labor of love.) According to Pollack, "It was considered a great achievement to rear a child by hand," (Pollack, ALR 54).
Fussy and difficult babies could be calmed with a number of medicinal preparations, such as: Godfrey's Cordial, Atkinson's Infant Preservative and Street's Infant Quietness. All of these easy to obtain preparations contained laudanum, an opium derivative:
In 1842 the commissioners of the Children's Employment Commission encountered two girls, both aged ten, at Lye in the Black Country, who claimed to be 'nurses', that is, they nursed babies at home. Both gave their babies a spoonful of Godfrey's three times a day (the common practice at the time). One said she thought it was made of tea with brown sugar in it; it made the baby sleep quietly during the day. She took it herself, too. (Hopkins 108)
Use of these opiates to calm children was so common-place that these young girls thought nothing about giving it frequently to their charges, nor did they question taking it themselves. Even up until the 1970's parents still gave their teething babies paregoric, another opium based medicine, to soothe the discomfort associated with teething. Another side affect of the laudanum was that it took away the appetite. Children (and adults) frequently using the prescription would not feel the pangs of hunger when they could not afford to buy an adequate supply of food. Unfortunately parents did not realize the addictive nature of such drugs. Many parents were simply ignorant to the dangers and the composition of the medicine they took.
The diet of older children varied greatly depending on the class and income level of their family. Most families lived from a diet of bread and weak tea, supplemented with cheese, potatoes, sugar, fat, milk and beer. Whenever they could afford it, they included meat, an expensive luxury item. Generally, people did not consume appropriate levels of food. Women and children's health often suffered from lack of proper nutrition. The father or "male bread-winner" had his choice of the largest portion. He had to keep up his health and strength because the family depended on him to provide for them (Hopkins 108).
Poor nutrition often led to illness. By the middle of the century, infants under one year old accounted for a quarter of the total deaths in England and Wales. Half of all of the deaths were infants under five (Hopkins 113). Sanitation and hygiene were serious problems. Filth or contaminated foods often caused infection. Diarrhea was so common and dangerous that it could cause death in a baby in less than forty-eight hours (Hopkins 113). The most common life-threatening diseases among older children, were scarlet fever, measles, diphtheria and small-pox.
The main cause of death in children was scarlet fever, which primarily effected those under ten years old. Outbreaks of scarlet fever were believed to be more frequent in middle class families, than in the working class, but this was not necessarily true (Hopkins 113). By the latter half of the century, the incidence of scarlet fever decreased, probably because the "potency of the streptococcus" decreased while at the same time people learned to isolate the infected person, causing the disease to spread less readily (Hopkins 113).
Whooping cough was particularly common and often deadly, as there was no known cure. In desperate efforts to save their children suffering from this disease, people often resorted to folk medicine or superstitious cures: "such as taking <their sick child> to ride on donkeys (associated with Christ) or having frogs breathe into their mouths," (Hopkins 113). Measles and diphtheria were also serious childhood diseases. Because of the arrival of a vaccination, smallpox became less fatal. In 1840, the first vaccination act was passed. The second, in 1853, made the vaccination compulsory for babies by the third month. A further act, passed in 1871, punished parents who would not have their children vaccinated with penalties of a 25s fine or a possible prison sentence. Unfortunately though, working class parents often objected to having their children vaccinated, so the disease came to be thought of as a "disease of the poorest classes," (Hopkins 114).
Few remedies existed for sick children of the working class. Because of the expense associated with doctors' services, parents usually considered them only as a last resort. Most parents stuck to home remedies and herbal type potions. In small towns and villages "the local wise woman" or the pharmacist would be sought out for advice first.
By mid-century a local dispensary sometimes offered medicine and advice free of charge, but usually these services required a "ticket for free treatment obtainable by some middle-class well-wisher," (Hopkins 115). For the most part, parents attempted to nurse their sick children themselves.
Supposedly, because of the high childhood mortality rate and frequency of illness, parents were hardened to the loss of their children that they remained cold and emotionless to the prospect. This was not altogether true. Parents did have love and affection for their children, and grew emotionally attached to them. Dr. Ramsey giving testimony before the Select Committee on Medical Poor Relief in 1844 said:
A sort of fatalism is very prevalent among the poor: they have... far less reliance on medical care than the upper classes. Some appear careless and apathetic; some resign themselves to the event; but from one or other of these causes, not a few of the poorest and most degraded allow their diseases to take their course. (Hopkins 116)
It is more likely that all classes of people felt a sense of helplessness when their children became gravely ill, especially since the medical field offered so few solutions.
People lived crowded together in small spaces. They needed strong disciplinary measures to maintain order in the home. Children did not have any rights or protection under the law until later in the century. Parents could do what they pleased with their children, since they thought of them as their property. Children could be bought or sold at a whim: boys into a trade such as chimney sweeping, or girls into prostitution. The law treated children equally as harshly as adults. Once past the age of seven, children might be hanged for committing a crime. The theories vary greatly on how widespread these torturous types of treatment were.
Victorian parents were extremely concerned with the task of disciplining their children. They are reputed for being brutally severe in their efforts to "break the child's will". This idea, which began to change later in the nineteenth century, stemmed from the theory that children were inherently wicked and must be trained to overcome the evil within. This notion of wickedness probably related to the biblical idea of Original Sin. Children should obey their parents unquestioningly, presumably as training for a healthy adulthood. The methods of punishment they often employed would certainly be considered abusive by late twentieth century standards.
Parents took quite literally the Biblical injunction: "Spare the rod and spoil the child". Parents strove for strict control and dominance of their children:
When Augustus Hare was three, his mother noted in her journal that he kept asking why, but she made a point of never giving any reason except that it was her will that he should do so. At five, little Augustus was shut up in his room for two days on bread and water explicitly to break his spirit, by an aunt whose little boy had bit and slapped him, which he was not allowed to retaliate. (Robertson 415)
Parents did not need to reason with children or explain their methods of punishment. Caning, the preferred method of corporal punishment could be begun as early as four or six years old. Sometimes parents substituted the whip. Physical punishment may even begin earlier:
J.A. Froude's first recollection of being whipped was at two, for dirtying his frock; while Ann Taylor was whipped for not being able to remember what T-H-Y spelt. She was imputed with wilful perversity. Ruskin was whipped if he cried, or disobeyed, or tumbled down the stairs... (Robertson 416)
It is likely children often did not even realize the reason for their punishment, it simply became an accepted part of their existence. Whipping seems to be an extreme method of punishment for such young children's minor offenses.
Although whipping was the most common method of discipline, parents employed many tactics to gain control of their children. Probably due to the fact that food was sometimes scarce, parents often used it as a tool in disciplining their children. Parents expected children to be thankful for whatever food was put on their plate and to eat it eagerly. If a child did not care for a particular food, such as spinach, a parent might offer it at every meal, forcing the child to eat it or go hungry. In another example, Augustus Hare's aunt forced him to take a huge dose of rhubarb and soda for sucking on a lollipop (Robertson 417). Parents probably wanted their children to realize that in life we must sometimes take the good with the bad.
Sometimes children would be deprived of food as punishment for some other offense. They might be forced to miss their desert of fruit or they might be sent to bed without supper for an offense like making an error in their lessons. Once again Augustus Hare's aunt tortured him:
The most delicious puddings were talked of, -dilated on- until I became, not greedy, but exceedingly curious about them. At length le grand moment arrived. They were put on the table before me, and then just as I was going to eat some of them, they were snatched away, and I was told to get up and carry them off to some poor person in the village. (Pollack, FC 182)
When this incident occurred, Hare was only five years old. Charlotte Yonge's mother taught her not to feel anxiety when watching others eat food when she could not have any (Robertson 417). Perhaps these methods were supposed to teach self-restraint. Parents believed that abstinence from food or favorite sweets would teach children to endure hardship (Robertson 417).
Other methods of punishment were more psychological than physical. For misbehaving, a child might be isolated in his room for days, fed on only bread and water. Perhaps this was meant to be a preview of the jail term he would have to endure should he commit a crime as an adult. Many parents believed in the benefits of periodic baths in cold baths, so cold that sometime a layer of ice would have to be broken in order to get into the tub. In The Fairchild Family, a children's book, the two characters were taken to view hanged criminals, although this was a fictional account and highly protested, it is possible some parents resorted to such scare tactics (Robertson 417). Less shocking, but cruel nonetheless: throughout the term of a visit to his aunt, a young boy in the Acland family wore a card on his back which read: 'Georgina, he kicks' (reminiscent of David Copperfield's sign which read 'he bites'). Such frightening and humiliating tactics must have had lasting effects on these children.
During the nineteenth century, there was an increase in the parents expectations of total obedience of their children. The incidents of corporal punishment also increased. Parents believed that children were weak and needed to be taught to be both physically and morally strong. They hoped that their guidance would prepare their children for adulthood. Pollack explains her interpretation:
Parents inflicted punishment because they were trying to rear a responsible being who would conform to acceptable standards of behavior, and in certain situations corporal punishment seemed the best way to achieve this. (Pollack, ALR 166)
Pollack believes that Victorian parents punished their children, not because they did not love their children, but because they wanted to instill in their children the proper values and moral codes. Although some parents certainly imposed cruel punishments seemingly without provocation, many parents labored over their responsibility to their children, and regretted having to correct them. In a diary begun in 1835, when her daughter was six months old, Elizabeth Gaskell expresses her feelings about the enormity of the task before her:
She is really very firm in her own little way occasionally; what I suppose is obstinancy really, only that it is so hard a word to apply to one so dear. But in general she is so good that I feel as it I could hardly be sufficiently thankful, that the materials put into my hands are so excellent, and beautiful, and yet it seems to increase the responsibility. If I should misguide from carelessness or negligence! wilfully is not in a mother's heart. From ignorance and errors in judgment I know I may, and probably shall, very often. But, Oh, Lord! I pray thee to lead me right (if it be thy will) and to preserve in me the same strong feeling of my responsibility which I now feel. And you too, my dearest little girl, if when you read this, you trace back any evil or unhappy feeling to my mismanagement in your childhood, forgive me, love! (Elizabeth Gaskell quoted in Pollack, ALR 180)
Elizabeth Gaskell has noted some negative traits in her daughter, even at such a young age, but she also realizes that in most respects she could not ask for a better child. She prays that she may direct her child properly, while accepting that she may make mistakes. This sentiment is probably the common one. Parents may mistakenly impose an overly strict regiment for their children, but more often than not they do it with the best of intentions.
Dr. Schreber, a prominent German doctor, and author of many child-rearing guides which were translated into many languages, explains his solution for dealing with the "willful" child and the reasons for his treatment:
The little ones' displays of temper as indicated by screaming or crying without cause should be regarded as the first test of your spiritual and pedagogical principles... Once you have established that nothing is really wrong, that the child is not ill, distressed, or in pain, then you can rest assured that the screaming is nothing more than an outburst of temper, a whim, the first appearance of willfulness. Now you should no longer simply wait for it to pass as you did in the beginning but should proceed in a somewhat more positive way: by quickly diverting its attention, by stern words, threatening gestures, rapping on the bed... or if none of this helps, by appropriately mild corporal admonitions repeated persistently at brief intervals until the child quiets down or falls asleep...

This procedure will be necessary only once or at most twice, and then you will be master of the child forever. From now on a glance, a word, a single threatening gesture will be sufficient to control the child. Remember that this will be of the greatest benefit to your child since it will spare him many hours of agitation inimitable to his successful growth, freeing him form all those inner torments that can, moreover, very easily lead to a proliferation of pernicious character traits that will become increasingly difficult to conquer. (Schreber as quoted in Miller 5)
Schreber is an example of a parent who, probably with the best of intentions, attempted to mold his child into the proper being, attempting to "free him from all those inner torments" and to suppress a "proliferation of pernicious character traits." He believed that the parent should possess total control of the child's mind and actions. He did not see the necessity for frequent beatings, but rather he felt that the parents should be able to manipulate and control their children through fear and disapproval. It is interesting to note that unfortunately, despite all of his authority on the subject of child-rearing, Schreber's own son became one of the most famous cases of insanity of the century, studied by Freud.
Some theorists describe these horrors of abuse and neglect as daily occurrences, while others disagree claiming either that brutality only occurred in the lower classes, or that it was the exception rather than the norm. Cruelty to children shows up often enough in Dickens to certainly make it appear to have been more frequent. We can only assume the obvious: that in every society extremes exist, both good and bad, and that reality lies somewhere in the middle. It may be that Dickens exaggerated or highlighted the abuse of children because of his own feelings about his childhood which created his sensitivity toward a problem that people would probably rather have ignored. Dickens was a crusader in the fight for laws governing the treatment of children. He likely intended to raise the consciousness of his audience to the gravity of the problem.
Adrian, Arthur A. Dickens and the Parent-Child Relationship. Athens, Ohio: Ohio University Press, 1984. A study of parents and children in Dickens' works, as affected by Dickens' own childhood, his relationship with his children, and the state of childhood in his era.
Aries, Philippe. Centuries of Childhood: A Social History of Family Life. Trans. Robert Baldick. New York: Alfred A. Knopf, 1962. A history of childhood. Aries theorizes that there was no concept of childhood before the medieval times and that since then parenting techniques have been developing slowly, constantly improving over time.
Dunlap, Barbara J. "Infant Feeding." Victorian Britain: An Encyclopedia. Ed. Sally Mitchell. New York: Garland Publishing, 1988. An article outlining the methods of infant feeding in use in the 19th century.
Hopkins, Eric. Childhood Transformed: Working Class Children in Nineteenth-Century England. New York: Manchester University Press, 1994. A study of the abuse and neglect of children in working class society in the 19th century focusing on the improvement in these conditions in the latter half of the century.
Illick, Joseph E. "Child-rearing in Seventeenth-Century England and America." The History of Childhood. ed. Lloyd deMause. New York: The Psychohistory Press: 1974. An examination of the changes taking place in child rearing in England and in America during the 17th century.
Maher, Susan Naramore. "Childhood." Victorian Britain: An Encyclopedia. Ed. Sally Mitchell. New York: Garland Publishing, 1988. An article outlining the development of childhood as it progressed in the 19th century.
Miller, Alice. For Your Own Good: Hidden Cruelty in Child-rearing and the Roots of Violence. Trans. Hildegarde and Hunter Hannum. New York: Farrar, Straus and Giroux, 1983. Useful for its direct quotations from child-rearing guides in the chapter entitled, "Breeding Grounds of Hatred: Guides to Child-rearing from Two Centuries."
Pollack, Linda A. Forgotten Children: Parent-Child Relations from 1500 to 1900. New York: Cambridge University Press, 1983. A re-examination of the history of childhood which refutes the accepted theory that over time parents have learned to love and parent their children, that before the medieval period there was no conception of childhood.
---. A Lasting Relationship: Parents and Children Over Three Centuries. London: University Press of New England, 1987. A summary of Pollack's theories on specific areas of the history of childhood, such as: childbirth, child-care, illness, discipline and play. Particularly useful for its direct quotations from contemporary diaries.
Robertson, Priscilla. "Home as a Nest: Middle Class Childhood in Nineteenth-Century Europe." The History of Childhood. ed. Lloyd deMause. New York: The Psychohistory Press: 1974. An overview of the conditions of childhood in the nineteenth century Europe.
Smith, W. John. "Children." Victorian Britain: An Encyclopedia. Ed. Sally Mitchell. New York: Garland Publishing, 1988. An article focusing on the legal status and family life of children in the 19th century.

The wonderful painting that is used here is
from the artwork of GREG OLSEN.