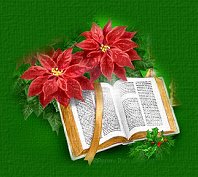 Matthew 2:11 And they came into the house and saw the Child with Mary His mother, and they fell down and worshiped Him; and opening their treasures they presented to Him gifts of gold and frankincense and myrrh. . It is all too easy to gain the focus of santa at Christmas and lose Christ as the center of all this season should really mean. Let the following poem put your thought back on track if they have wandered.

This hollowed morn, O Lord
On which the Savior Child
An infant meek and mild,
According to thy word,
In glorious vision told,
To seers and holy men of old,
Rose, like the morning-star, upon the earth,
In joyful strain we celebrate the wondrous birth.

On Bethlehem's darkened plain,
The shepherds watched by night,
When on their startled sight
Burst an adoring train.
From heaven's high gate they came,
The world's great Savior to proclaim;
And with sweet sounding harp, and rapturous tongue,
"Glory to God on high, and peace to men," they sung.

Whence that mysterious star
That hangs o'er Judah's land?
That venerable band
Approaching from afar?
Whom seek they on their way?
At whose feet would the homage pay?
To Judah's youthful and celestial king,
Myrrh, frankincense and gold, all costly gifts they bring.

A prince of David's line,
A peaceful king is born;
Though of his glory shorn,
Yet still a child Divine;
Come from his Father's throne,
In lowly pilgrim guise alone,
Peace to the world, and mercy to convey,
Dispel the long dark night, and bring the glorious day.

Ye children of despair,
Lift up your drooping eye!
Ye who in sorrow sigh,
Now ended is your care!
Rejoice, ye who have pined
Under some sickness of the mind!
Be glad, ye halt and maimed, ye blind and dumb,
The Healer of disease, the great Physician's come!

Rejoice, ye heathen lands!
Your gloomy night is past;
That Sun has risen at last
Whose glory far expands;
Now the bright morning smile
Upon the distant ocean isles.
Your idols break, ye dwellers of the sea,
Greek, Roman, and Barbarian, be free! be free!

Henceforth new ages roll;
The Son his reign assumes;
A light from heaven illumes
The kingdom of the soul.
The year of the redeemed
Is come, that long in coming seemed;
And earth is waiting now, in hope sublime,
The bright millennial age, unstained with blood or crime.